Lotus/IBM
Project: Customer Relationship and Retention Campaign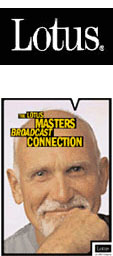 Situation
Lotus/IBM wanted to solidify and nurture its relationship with its best customers. At the same time it wanted to expand those relationships to target line-of-business (LOB) management - less technical and more business-oriented titles - who were the primary market decision-makers for new products about to be introduced. The company was launching Notes R5 along with a number of new products and product updates including Domino.Doc, LearningSpace and SameTime.
Solution
Energize "champions" with a series of nation-wide customer appreciation events. Include "sneak previews" of R5 and new products along with vision of the future. And lots of "freebies." Enlist the help of technically-oriented customers in identifying Line-of-Business Managers.
Elements
Renaissance provided database development, messaging, creative concept, production and delivery of print and electronic invitations for an 11-city North American tour of "The Lotus Masters Workshop." Included development of programmatic web sites for registration, plus analysis of response for future campaigns.
Campaign Results
Lotus/IBM Customer Relationship and Retention Campaign - 3.68% overall response rate (in their own words "well above most Lotus programs in the previous 12 months") put "cheeks in the seats" nationwide. Lotus contracted with Renaissance to repeat program numerous times with new creative. Rolled out to Europe. Scaled up to worldwide live satellite broadcasts. Originally a one-time event, The Lotus Masters Workshop is still an active program at Lotus today.